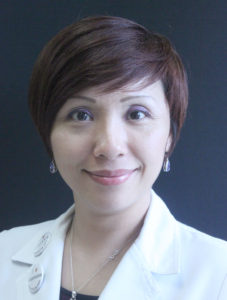 Dr. Jacqueline Yuk Tong Cheng D.O.M., Dipl. of O.M.
Medical Director and Owner
Dr. Jacqueline Cheng has been overseeing the intern clinic of Florida College of Integrative Medicine as the Clinic Director since 2011 and has been a member of Curriculum Development and Review Committee at the same time. She was also appointed as Supervisory Board Member of the College in 2017. She has trained many professional acupuncturists in the capacity of an Instructor and Clinical Supervisor in the past seven years. Her focus is on improving clinical education standards, benefits for patients in integrative medicine and to promote community awareness on disease prevention. She has a diverse business and administrative background in customer relations. Her enthusiasm enables interns to achieve their dream, their career and great success.
Dr. Jacqueline Cheng earned a Bachelor of Art degree in Hong Kong, China. She received a Bachelor Degree of Science in Professional Health Studies and a Master of Science in Oriental Medicine with Suma Cum Laude in 2009 and was on the Dean List for five semesters consecutively. She is also NCCAOM, Nationally Board Certified, and Florida State Licensed with Acupuncture Injection Therapy certification.
Dr. Jacqueline Cheng has been intensively treating patients within her practice. She has significant results in helping extraordinary cases with tremendous experiences through her practice. Such as Facial Paralysis (Bell's Palsy), Pre/Pro Chemo-therapy Care, Pre/Pro Surgery Care, Cardiovascular Disorder, Stress & Depression Management, High Blood Pressure, Headache, Stroke, Pain Management, Gastro-intestinal Diseases and various of Internal Diseases. Dr. Cheng also treats pediatric population with tenderness and care. She not only hopes for making a different in patients' life, but her purpose and mission is to change one's life to live with joy, well-being and longevity.
Dr. Jacqueline Cheng is enthusiastic about Acupuncture Facial Rejuvenation. She invented special herbal masks with all nature organic ingredient on top of her Acupuncture Facial Rejuvenation treatment which making significant result for all kinds of facial problems like winkles, sun/ aged spots, uneven complexion, dark circles around eyes, sagging jaw line and pimples etc. She has been teaching seminars to share her knowledge about this precious skill for seven years. She believes ultimate beauty is created by inner balance in the Body (Healthy Organs), Mind (Balance Qi/ Energy Flow) Spirit (Joy and Peaceful Soul).